Miss Amendolara paints a picture of service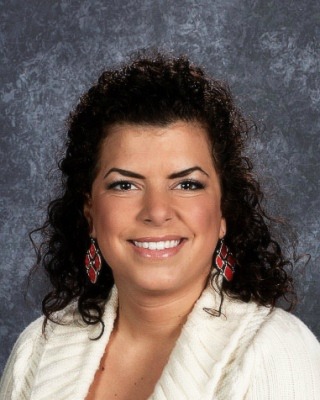 Jackson-Milton has much respect for Kaitlyn Amedolara. She has many students in her corner from all of the groups and clubs she is in charge of. She loves being an art teacher because she is inspiring students, and inspiring these students their own form of creativity. If the kids are making their own kind of creativity she is happy.
She does not want to teach another subject because she loves art and the history behind it. She attended Ohio Northern University. She traveled a semester abroad then she was awarded a Fulbright-Hayes Scholarship to study democracy in South Africa. It was a prestigious scholarship to study and teach abroad. She says she would never leave Jackson-Milton because she loves it and, "the students and staff are awesome. I am really lucky to be a part of a wonderful school district."
Samantha Metts says, "I like Miss. Amendolara, she is a very nice and hardworking teacher, she always makes sure stuff is done. I'm happy that she is my art teacher because she is the most creative teacher I know."
Miss A. is involved in more than just being a teacher. She is in charge of Key Club and adviser for student council and art club. She also teaches night art classes for adults.
Adam Smith is in Key Club and he states that, "Miss. A is perfect for being in charge of these clubs like the ones I am in because she always has stuff organized. Being organized is a huge key to being in charge because if you are sloppy you will have nothing going in your direction."
Miss Amendolara says, "Community service is my passion and I am happy to be able to lead students to build leadership skills and a compassion for their community."
Miss. A believes she is happy and ready to be in charge of homecoming again because she felt that it was important to make sure it was a memorable one for the students. She has done a very good job at making sure all of these things are in place and functioning correctly. She is so happy to be able to help the district and everyone in it.
Kaitlyn Amendolara has a few things she likes to do outside of the district. She has a desire to travel around the world. She travels to explore new cultures. Putting herself in a new and unknown destination helps her become a better person. It is one of her life goals to see and travel to every continent. She also loves meeting new people, and learning new languages. She likes being able to spread her capabilities of knowing different cultures and languages.
Her favorite place to travel was Florence, Italy. She says, "It is the birthplace of many famous artists." She always had one favorite painting and she claims it is the "Starry Night" by Vincent Van Gogh.  He had never sold a single painting in his entire career and he is now one of the most famous artists. She says, "I love his painting style and expression."
Kaitlyn Amendolara loves her job and loves the people who surround her. She wants to keep doing what she does and wants to keep traveling around the world to meet her dreams of going to every continent.