JM Welcomes new Athletic Director Daniel Crish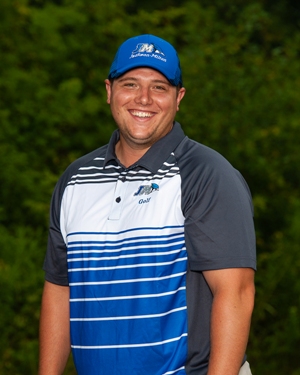 The Jackson- Milton Blue Jays hired Daniel Crish as the new athletic director this past fall after teacher and athletic director Kevin Hogue stepped down from the position.
Daniel Crish, who has been at Jackson- Milton for 6 years now as an elementary teacher, has taken on the new role.  He has also been a high school golf coach for 6 years, a track coach for 3 years, and the girls middle school basketball coach for 1 year.
Before he came to Jackson- Milton, he attended Akron University for sports management and obtained his Bachelor's degree there. He interned for the Akron RubberDucks Baseball team and was Zippy (the mascot) for a year at Akron University.
He earned the athletic director position from the experience he had in college interning as well as his education.
As an athletic director you need to worry about ticketing, scheduling for gym times and game times, managing coaches/teams, and overall managing multiple athletic teams as once.
"I wanted to be the athletic director because of the passion I have for being around sports, student athletes, and I saw an opportunity to lead the programs in the right direction and help find new opportunities for the school and the athletes," Crish stated.
Crish also stated, " It's going good, all fall sports are in full swing and doing well and I've become acclimated to the athletic director environment."
Good luck in your new role as JM Athletic Director!