Mrs. Condon selected her career in a very unique way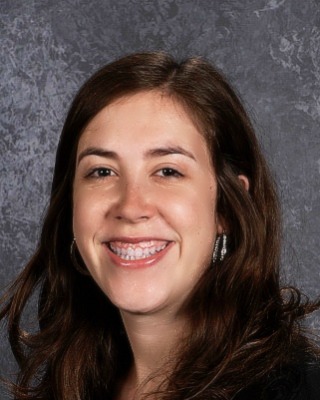 Most students at Jackson-Milton high school know Mrs. Condon on the surface, but an interview with Mrs. Condon revealed minute details about her and her life that most students are unaware of.
Throughout the interview, some of Mrs. Condon's responses were unexpected and shocking, such as the question regarding math being her favorite topic.
Mrs. Condon was asked, "Was math your favorite subject throughout high school?" Mrs. Condon responded by saying that French was actually her favorite subject in high school because of how fun it was. She continued by saying that she believed that French gave her the feeling of traveling without actually going anywhere.
Since Mrs. Condon's passion for math is very obvious to all students, staff members, and friends, it is surprising to hear that she was not as passionate about math through high school as she is now.
Mrs. Condon attended University of Mount Union after high school and went undecided for her first couple years. She previously went on a college visit to Mount Union and fell in love with it. One reason she chose to attend Mount Union was because she did not want to go to college too far away from home.
Mrs. Condon says, "Mount Union was a good choice for me because I went to a visit there and everybody just seemed so nice. They also had good food, which was important. I also think it was far enough away to feel independent, but close enough to home if I missed mom and dad!"
Mrs. Condon and her friend were unsure of what exactly they wanted to major in. They both agreed on narrowing down their options and throwing the remaining majors in a hat. In the interview Mrs. Condon says that her choice of teaching high school math began in college when she picked a slip of paper out of a hat and it just so happened to be high school math. She also said that she has continued to teach high school math because she enjoys taking something that not many students like and transforming it in a way that reveals the true beauty of math.
Mrs. Condon has been teaching high school math at Jackson-Milton for 9 years and says that she loves every moment of it. Mrs. Condon chose to teach at Jackson-Milton high school because she loved the sense of community involvement that was present throughout the Blue Jay community.
Mrs. Condon's love for math has grown immensely since the beginning of her teaching career. She has so many favorite things about math that she could not just narrow it down to one thing that she loves most.
In the interview, Mrs. Condon says, "I think I may actually have a favorite in every class! My favorite thing in calculus is the derivative, in applied math it is circuits, and in algebra 2 it is trigonometry!"
At the end of the interview, Mrs. Condon revealed some things that most students may not know about her, such as what she would do with her life if she did not choose to teach high school math.
Mrs. Condon says, "I've often thought about working as a nurse in a nursing home, with old folks. I think there would be something special about helping people near the end of their life, giving them comfort."
She continues talking about things that most students would not know about her when she talks about how she grew up on a farm. Lastly, she said, "One thing that most people would not know about me is that I grew up on a farm where we raised produce. And my donkey from my childhood, Jenny, is still alive!"
Two students were asked about their opinion toward Mrs. Condon. Bridget Welsch, a senior at Jackson-Milton high school was asked about her overall opinion about Mrs. Condon's teaching and about her as a teacher in general.
Bridget said, "Mrs. C's way of teaching helps me learn so much easier than other teacher's ways of teaching."
Another senior, Courtney Macphee, was asked the same question.
She responded by saying, "She always makes it a point to make sure that students know the material well as well as making sure that they are confident before a test. She always makes an effort to offer help to any student that may be struggling during her free periods, during class, and before and after school. That is something that not many teacher do, and that we are very lucky to have!"
Mrs. Condon takes pride in her work and her love and appreciation for math has helped students realize how important and beautiful math truly is. All of Mrs. Condon's efforts in teaching and providing help to students have not gone unnoticed. Overall, Mrs. Condon is an amazing math teacher and Jackson-Milton is glad to have her as part of the Blue Jay community!