Jackson-Milton's new sign is a bright way to share important info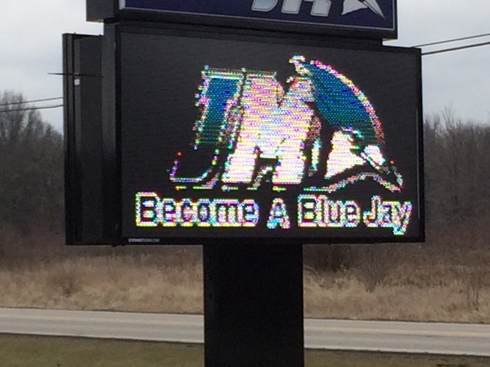 Jackson-Milton has just invested in a new sign by Stewart Signs, (America's Premier Sign Company). This new addition helps on-goers and anyone who passes by the school to see many topics. Including; the date, time, temperature, events going on or that have gone on, and slides supporting the Jays.
The sign is meant to attract attention with a dynamic LED display. It creates eye-catching messages with ease using software that includes hundreds of graphics. Its overall height is a whopping 13' 8" and width is 8'8".
Student Justin Rentz says, "It's a nice way to get information and good addition to the school."
Toni Jenkins, the administrative worker who designs many of the sign slides, says, "Teachers and staff send notice of what is going on or I just check the calendar." She also says, "Running the system is like an art program but it's really just a computerized program. It's fun picking colors and fonts for everyone to see and catch their eye."
Jackson-Milton is hoping the sign will serve as an additional outlet for communications with parents and community members for events and accomplishments within the school.  Currently, Jackson-Milton utilizes their parent broadcast system, DRUND (and educational social media site), and their online school newspaper to inform and share information with the community.