Lady Jays make history…Congratulations League and District Champions!
Hang on for a minute...we're trying to find some more stories you might like.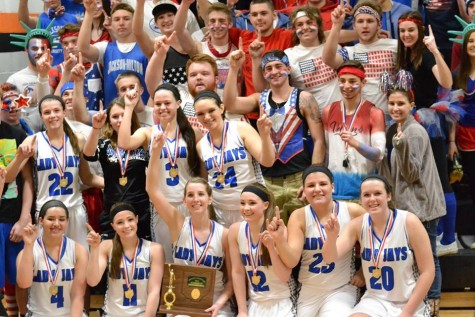 The Lady Jays have won the League Title for the first time in 28 years! It has been long awaited and they went undefeated 10-0 in the league.  Teams included: Western Reserve, Mcdonald, Lowellville, Sebring, and Mineral Ridge.
Coach Keney was the coach of the 1988 league team and is the current coach now. Also, the current assistant coaches Sheri Lengyel and Melissa Williams were a part of the 1988 team from a player's aspect.
The Jays beat Mathews February 24, 2016 in the District Semi-Final 51-30. They advanced to the District Finals which took place February 28, 2016 4:00 pm at Mineral Ridge High School against Mcdonald.
Additional coverage can be found here:
http://www.jacksonmilton.k12.oh.us/userfiles/291/my%20files/jm%20girls%20basketball%20on%20to%20district%20finals%202016.pdf?id=546042
http://www.vindy.com/news/2016/feb/25/mcdonald-j-m-clinch-rd-meeting/?newswatch
The Lady Jays won the first District Title for Girls Basketball in school history on Saturday February 27, 2016 against Mcdonald 36-20.  They are advancing to the Regional semi-finals which takes place March 3, 2016 8:00 pm at Perry High School against Willoughby Cornerstone Christian. This is Cornerstone Christian's second trip to Regionals.  The Lady Jays are ready for battle.
Additional Regional interview can be found here:
http://www.vindy.com/news/2016/mar/03/bluejays-seek-to-extend-history/
Way to go Lady Jays!  We are very proud of your accomplishments!