New Year, New Technology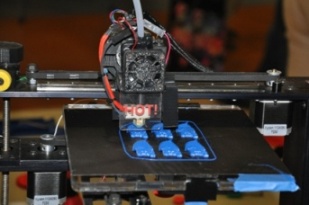 The new technology for the year consists of several changes.  All the computers are now Chromebooks.  They switched to Chromebooks because they want students getting used to using Google docs, Google classroom, doing their work through Google, and sharing schoolwork with the teacher online.
By using Google docs it is much easier to keep work saved because when the old computers would shut down and all of the work that wasn't saved would be deleted.  However, some classes are still using Windows due to the need for specific programs, like yearbook and the STEM classes.
The school has installed a new STEM lab as well and students have named the room Fishbowl Graphics. Students will be able to do such things as large screen printing (the ability to create a larger screen print than normal).  They are able to use 3D printing to make things that could be used around the school. The design programs will be used to make logos and different things that can be incorporated around the school as well.
Book keeping programs are being used to keep record of data and financial and business affairs. Students will also be producing t-shirts and sweatshirts. They will be able to make their own shirts for different things going on throughout the year.  
Jackson-Milton is moving up on the technology charts by bringing in more advanced programs and equipment.
Jackson-Milton student James Davis says, "During my time in the additive manufacturing class, we only had two small printers and with the new investments the school has made we are able to use more precise and intuitive programs and printers."
Since last year they have gotten more printers and different pieces of equipment to utilize in the classroom.  The school recieved a donation of a 3D printer and Garrik Catania, Garrett Bueno, Ryan Higgins, and Samara Petrello attended a tour of TTM technologies in North Jackson. TTM has graciously donated a 3D printer to Jackson-Milton High School and the students went to tour their company and thank them personally.