Mr. Sachire inspires students to get physically fit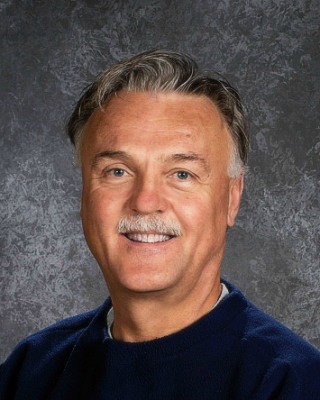 Jackson-Milton has many great teachers who lead students to meet their full potentials. Mr. Sachire is no exception. For many years, Mr. Sachire has been putting in his own hard work to ensure the students have met their full potentials. Knowing from personal experience, Mr. Sachire takes his job very seriously and always helps the kids with any problems they might have. Mr. Sachire used to teach science. He really enjoyed teaching science because it was his favorite subject and that subject really interested him.
Mr. Sachire taught many years in the classroom before moving to the gym. He said that he wanted a new challenge and loved physical fitness so he switched to a Physical Education teacher. Mr. Sachire has a minor in Physical Education so it was a perfect fit for him. Sachire loved the change and has been in love with teaching Physical Education ever since.
Mr. Sachire loves teaching at Jackson-Milton. The environment and the atmosphere of the gym is why he loves to come to work every day. The staff and students of Jackson-Milton have a great attitude and Mr. Sachire does too. The students that Mr. Sachire teaches have a great attitude towards learning about Physical Education.
Mr. Sachire's free time also goes towards sports. He enjoys going to and watching many high school sports including football and basketball. When Mr. Sachire's daughter was in high school, he would go and watch her participate in volleyball. He loved to watch his daughter excel on the court. Mr. Sachire goes to all the football games, even though he does not have much free time. Mr. Sachire told me that his favorite class to teach is his seventh graders, "The seventh graders always come ready to participate no matter the event, they are ready to play as soon as they come in the gym. They enjoy the class, which makes it enjoyable for me." The high school students like Mr. Sachire as well. Senior Tyler Phillips says, "He cares for the kids and always gives them the best opportunity to succeed in anything they do in the gym or in the classroom."
Mr. Sachire was also athletic when he was in high school. Mr. Sachire loved to play basketball, where he was a very skilled shooter. He went on to play college basketball at Hiram College. He played basketball there for two years before transferring to Kent State University. Mr. Sachire received his teaching degree from Kent State University.
Being a coach is something Mr. Sachire holds close to him. He incorporates many things from teaching to coaching. His players are taught organization, discipline, hard work and character, much like he tries to teach his students. A progression of skills is something Mr. Sachire takes seriously. Seeing a kid who improves throughout their time with him makes him feel like he has done a good job with them.
Mr. Sachire was also a football coach at Chaney High School. I asked him who the best player he has ever coached was, and he replied "Brad Smith for sure. He was the best skilled athlete I have ever had. He was a great kid who was a hard worker and loved the game." Smith went to college at Missouri. He was later drafted by the New York Jets in the fourth round of the NFL draft.
Teaching is something that Mr. Sachire will always cherish. No matter what is going on during the day, he always keeps a positive attitude toward the students and staff.  Mr. Sachire is personally one of my favorite teachers and I know that if I needed anything, I could ask him. I want to thank him for all that he does as a teacher and as a person. The things he does do not go unnoticed.