Veterans Day Program Honors Local Veterans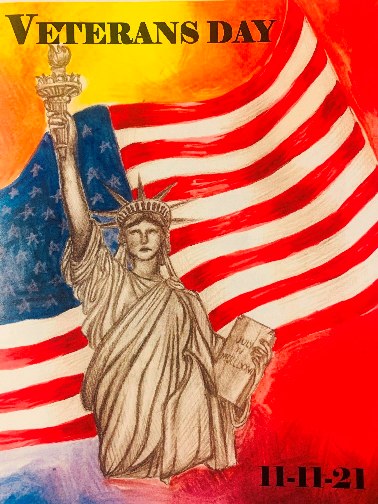 The Veterans Day program took place on Veterans Day, November 11 at 9 am. American Legion Post 737 came to join in the program. The JM band performs various types of music to pay tribute. Different speakers perform readings to show tribute to veterans and the community.
The speakers were: Logan Sokol, Aiden Cole, Kelsey Hamm, Malina Funes-Kendrick, Jack McDevitt, Delaney Crytzer, Chelsea Williams, Anthony Rentz, and Mitchell Newhard.  Keagan Beck performed TAPS.
The American Legion Post 737 presented the colors. Chelsea and Anthony read "The Pledge," Kelsey read "We honor you today," the JM band performed the armed services melody while Mitchell Newhard announced each service branch, Melina read "This Soldier," Mr. Vega honored our WWII veterans, Jack read "In Flanders Field," Delaney read "America's Answer in Flander's Field," Keagen  performed TAPS following a moment of silence, then  the American Legion Post 737 retired the colors.  There was also a tribute vide played to honor our local veterans.
Special thanks to Jeanne Reyes, Rochelle Morelli, Brian Jackson, Dave Vega, Kalliope Ivari and Marlee Ross (program cover artists), members of NHS, Sue Prozy and the Student Council, and Nick Penfound directing the Jackson-Milton Band on another successful program.