Leonard Truck and Trailer Wrestling Tournament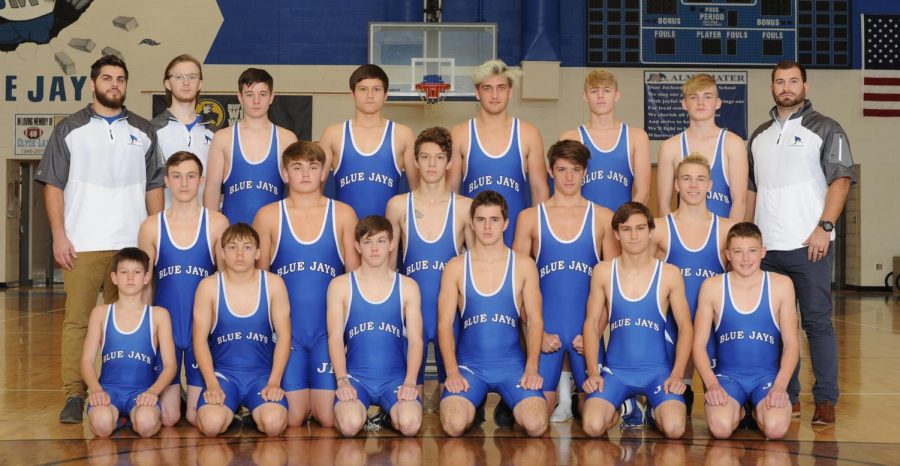 John Landis
February 10, 2020
Every year at Jackson- Milton High School in the Don Patton gym, they hold their annual Leonard Truck and Trailer wrestling tournament.  
Leading the pack was sophomore Joe Armstrong. Armstrong earned himself a spot in the Championship finals after chaining together two impressive wins. One of which came in a 9-2 decision over Dylan Newhouse of Salem in the Semi Finals bout. Armstrong later fell to South Range's Gavin Pahanish by major decision in the Championship Finals to earn a 2nd place finish at 113 lbs.
Other placers for the Jays were Senior Ryan Staton and Freshman Gavin White. Both wrestlers fought through the consolation brackets after early losses. Staton finished strong with a 3rd place finish at 145 lbs. Staton won his consolation finals match by fall in 2:14 over Brookfield's John Webb. White, a freshman on the Blue Jay team had two impressive wins to earn him a spot in the consolation finals. Both were by fall in under a minute. White completed the day with a 4th place finish at 182 lbs after injury default in his finals match.
Sophomore Joe Armstrong comments, "Yeah, it was tough, but I'm glad that I placed where I did. I'm looking forward to improving as the season continues."
Excitement was high for the wrestling program as the season comes to a heavy rise over the next few weeks. Good luck to our Blue Jay wrestlers as they conclude their season.