Boys Basketball Season Update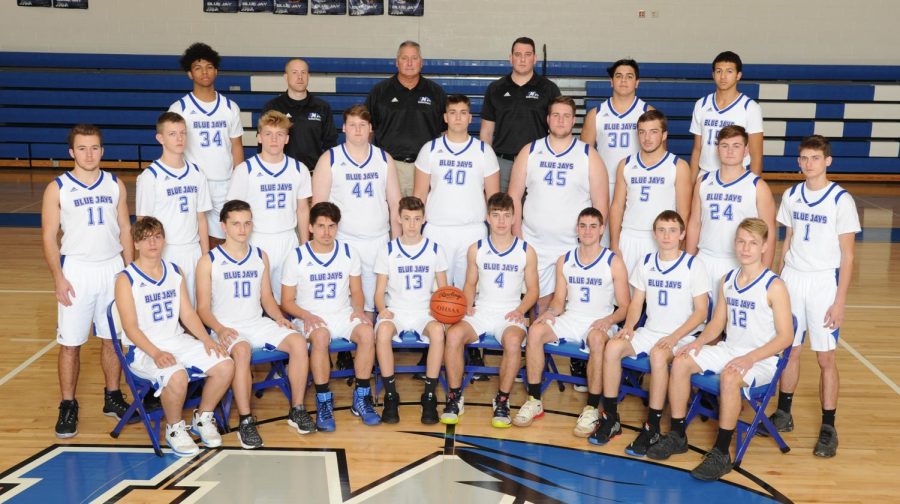 Shane Davis
February 10, 2020
 The Jackson-Milton Blue Jays high school basketball team holds a record of 5 wins 11 losses on the year thus far. The team has 2 league wins one against Lowellville and one against Western Reserve. Recently the boys played their rival Western Reserve in a classic trophy game. Reserve held the trophy for the last few years, however the Jays, led by Mason Robinson's 17 point performance, would come up with a 36-32 win.
Junior Varsity basketball player, AJ Bouch was asked how the win felt, he replied, "It feels good to bring the trophy back, it was a great team win and I'm proud of the way we played."
Not only were the players excited but the fans and students were too. Senior Megan Fultz was asked what the feeling was like watching the game and coming out on top, in which she said, "It was a very great experience. The boys worked and played very hard and I can't wait to see what happens next."
The boys go on to play McDonald Friday the 31st at home and will play against United Local on February 4th at home. The boys hope to see a lot of support as the season begins to enter the final month of high school basketball.
With three games to go this season, the Blue Jays sit at 5-10. After what has been a turbulent and exciting season, the Jays find themselves reflecting on this year and what it has meant to them. As fans prepare to wrap up the season, many find themselves proud of how far the team has come, and everything they have accomplished.
"Beating Reserve!" says Senior Ryan Staton, when he was asked what his highlight of the season was. This seemed to be a common theme among fans.
"Beating Reserve after so many heated battles with them on and off the court, well it was just perfect," said Senior basketball team captain Kent Gross. These battles of course referring to other matchups between the two schools, such as football.   Being a leader for this year's team surely has not gone unnoticed by Kent though, as he understands greatly what it has done for him. Gross stated, "It really was a blessing, even though I saw minimal playing time I felt integral to keeping our team together, and it's truly been a blessing unlike anything else." 
The Juniors on this years team were notable in a variety of ways. Firstly, the most common starting lineup consisted of all Juniors, and secondly this led to them obviously having lots of playing time.
Junior A.J. Bouch, when asked about what to expect next year said, "The highs of this year will all be there. I expect us to beat Reserve again, I expect us to pull through in some more close games, etc. But I expect the lows, the 10 L's on our record, to be drastically reduced."
Juniors seemed to be in agreement on this. "We have experience around one another, and we will all be Seniors next year. It's kind of surreal," says Mason Robison. 
The future looks bright for the Blue Jays, and the fan eagerly anticipate seeing what they can do next.