Veterans Day Assembly 2019: Thank you for your service!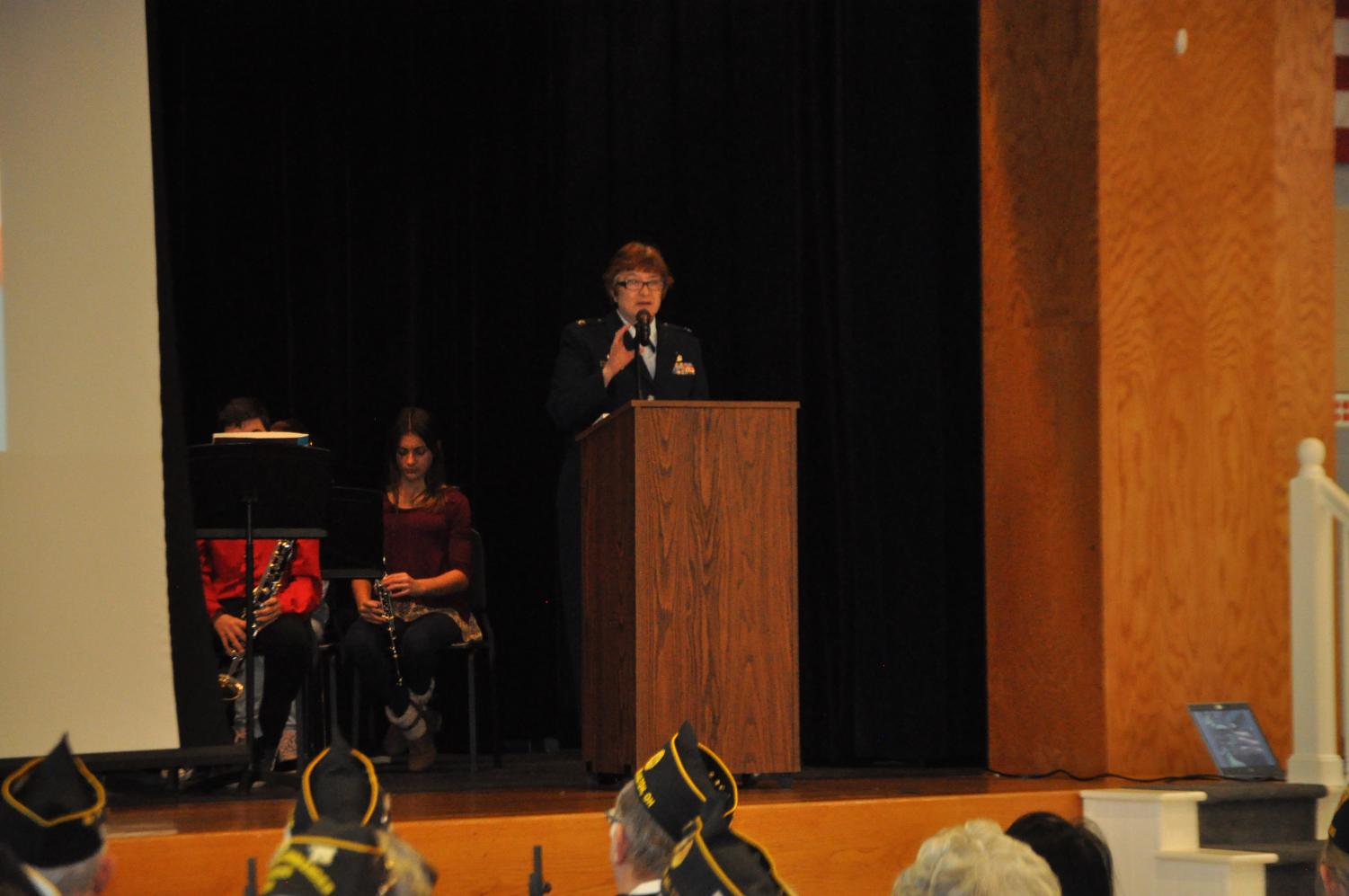 The 2019 Veterans Day assembly has come and gone here at Jackson-Milton. Mrs. Reyes begins planning this assembly well in advance by finding a speaker, selecting readings, and meeting with the other staff members who contribute.  Miss Henderson readies her band students to perform, Mrs. Russo develops the veteran slide show, and Mrs. Yantes works with the readers for the day.  Mr. Rotuna also helps with many of the technological aspects of the assembly.  Our Veterans Day assembly is taken very seriously at Jackson-Milton and has numerous presentations and performances from our students.
"It's nice to be able to show them we care, even if we don't know them personally," says Kate Campbell.
We also had a guest speaker Colonel Sharon M. Johnson and her speech on what being in the Air Force is like for her and what it means to sacrifice for your country. Many of the staff at Jackson-Milton were impressed as well. Also included was a slideshow made by students for the veterans one student included in the message video shares his thoughts of the assembly. 
Brian Royea said the assembly was, "Very nice, the assembly was well put together and there were many components that went into making it as nice as it was." 
Following the assembly a lunch is held for our local veterans hosted by student council and included various staff members including Miss Emily Henderson, Miss Katelyn Russo, Mrs. Jeanne Reyes, Mrs. Janet Yantes, and principal Dave Vega.
As a member of student council Kalliope Ivari attended the lunch preparing food and helping veterans find their way, "I felt really good about it they sacrifice so much for us, it's really the least we can do. They don't always get the appreciation they deserve so it's good to know we recognized them this way.''
Many students put their own work in to do a reading for the veterans to thank them, they are as follows: Kent Gross, Logan Grunder, Nathaniel Smith, Michael Liberato, Katie Mitchell, Frank Prozy, and Alyssa Deak.
Also contributing was John C. Chittock, Chaplin of The American Legion with the speaking of " I Am a Veteran" Which had many people thinking of their family and friends.
Jackson-Milton is thankful that we have such a nice assembly to honor those who have provided them with the freedoms they have.