Cross Country season comes to an end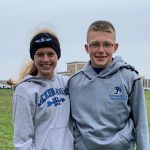 Cross country wraps up their season with five middle school boys in state and two high schoolers placing into Regionals.
Runners Kate Campbell and Cole Graham went to Regionals and both ran very well they ran at Boardman High School, Kate got 47th out of 111 runners and Cole got 40th out of 120 runners. Kate's time was 21:47 and Cole ran a 18:05.
Kate said, " It's really cool to represent your school at Regionals.  I wish I could have made it further but I'm proud of myself and I've got three years left to go all the way."
Five middle school students also went to state which took place in Columbus. The runners were as follows: Eric Aliff, Josh Cameron, Dominic Zitello, James Croyle, and Landon Malmfeldt. The boys ran competitively, however didn't place as a team. Having such a large middle school team with all 14 runners will make for a competitive varsity team in the years to follow.
Cole Graham says, " Yeah since we can only have 7 varsity runners it should be exciting to see who gets the spots and shake things up in the future."
Cross Country has been practicing hard since early July and working incredibly hard to crunch times all season. Coach Morrison says, "I'm really proud of everyone, they've worked so hard all season and we had a really great year."
High school runner Kalliope Ivari says, " Practice isn't really something we dislike, it's rather fun when you have such a fun team we get to have fun at the meets so it's all worth it."
The season wrapped up with bow on top after Regionals/State and will be untied next summer with a fresh batch of middle school runners!