Cross Country 2019: High School and Middle School running circles around the competition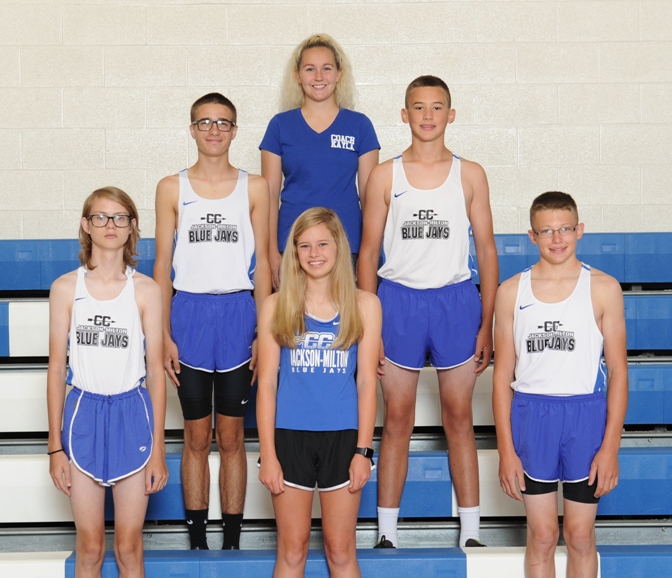 Kate Campbell and Makayleigh Aliff
October 2, 2019
Jackson-Milton Cross Country has something very unusual going on for its athletes in high school and middle school students. The middle school boys team has fifteen runners.
The middle school boys cross country team consists of more runners than the high school boys, girls, and middle school girls combined. Along with the numbers, this skilled, hardworking team's top 7 runners have been improving and crushing the competition since their first invitational. You can see the team camaraderie of all these determined, 15 runners working together to drop their times and work as a team to eventually place at large Invitationals including over 20 schools and sometimes 250 runners individually. 
Coach Kayla Morrison says this team could be Statebound next year with the help of two other solid high school runners.
"They really are a talented group of runners," Morrison says, "I watch them progress and continue to work hard every single day. Our top four are really running strong these last few races."
Morrison runs with this team every day and sees them persevere, taking their running skills to new heights every day. 
"Sometimes they don't want to do the workouts I have planned. Little do they know that this is helping them as individuals and as a team,"  Morrison stated.
Meanwhile, even though the middle school girls team at Jackson-Milton only have two runners, these two have exceptional running potential. Their top runner, 7th grader Kristen Campbell kicked off her season with a 15th place finish out of nearly 200 runners, running a time of 14:29.2 that spans a two-mile course.
"I was not expecting that at all," Kristen Campbell explains, "I just like the end of a race. As my coach says, "The faster you run, the faster you're done.""
Macayle Thornill, also a volleyball athlete, runs alongside Campbell during practice and has been having strong races as well. She is currently in 8th grade.
The middle school boys top runner is 8th grader, Alex Rotuna.  Rotuna finished 19th at the Billy Goat Challenge with a time of 13:06.5 which was held at McDonald with over 200 runners in his race. 
"I went out at a 6:00 for my first mile," Rotuna said, "I thought that was too fast. I couldn't hold that pace the whole race, but I'm still happy with my finish."
The Jackson-Milton Blue Jays are crushing times and preparing for State and Districts this season. The teams, while some are big and some consisting of only 2 people, one coach, and lots of supportive parents, make the most of every race.
Kalliope Ivari pushes herself more and more every race. Over the past 3 races she has cut her time down by 30-60 seconds every time for an overall reduction of 4 minutes off her average time. She says, " I really want to get my time lower because it feels good to improve but the support from my coach is what is really motivating." Congrats to Kalliope for being the BW3 player of the week.
The high school boys team is also shaking things up with two new members this year getting their times lower and being a great addition to the team.
Anthony Terronova, a junior, beat his personal record by 30 seconds and took 6th at the Lordstown meet.  Cole Graham placed 24th at Canfield and 3rd at Lordstown in his sophomore year.
In addition, Kate Campbell is doing extremely well her first year in high school. She placed 6th at Lordstown and 19th at Canfield with an impressive time of 21:40 for her first year running the 5k. She says, " It's a really fun thing to do none of us really love to run it's just like a second family.  We really need more upper class runners so we can place as a team."
The MVAC meet at McDonald is Tuesday October 1st and will be a competitive race.