Medical trailer visit to JM sparks interest in the medical field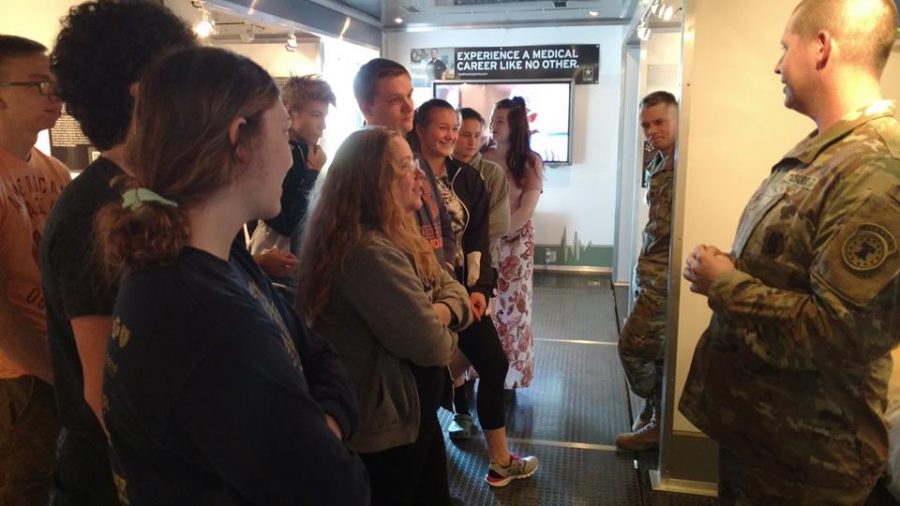 Nicholas Dolak
May 16, 2019
'War? I don't want go to war,' many people say when they think of joining the military, but this is not always the case. Being in the military is about serving your country, not going to war.  On April 9th 2019, Jackson-Milton High School had a medical military truck come to the school. The truck showcased many medical situations in the military field. They also had trained army personnel tell us about the benefits of joining the medical field in the military.
Freshman Maddi Osborne, who one day wants to go into the medical field said about joining the military, "Yes, that's what I plan to do. I feel like it gives more learning experience with different types of injuries or tough situations with being in a tent and having to perform surgery."
According to medicineandthemilitary.com, "You select treatments based on medical needs, not the financial needs of an insurance company. In terms of scheduling, you can spend more time on each patient instead of hurrying from one to the next. Finally, if you need to make a referral, you can turn to the many specialists in the Military's network." Obviously, having free range on the operation you can perform helps a lot, as some insurance companies do not pay for newer operations that could be better than a traditional one.
Junior Brianna Shannon stated, "Being able to hear about their field of work and the different jobs listed in the Army that we didn't know about was a great opportunity to learn from."
One of the biggest benefits of joining the medical field in the military is their advancements in treatments. To illustrate, goarmy.com states, "A new skin growth procedure is currently in Phase III clinical trials by the Armed Forces Institute of Regenerative Medicine and the U.S Army of Surgical Research. This spray-on skin works by taking a small biopsy from the patient's skin and incubating it in a cocktail of enzymes for about 20 minutes." Without a doubt, the advancements play a huge part in reasons to join the military medical field.
Shane Davis stated, "My experience going into the truck and listening to what the army had to say, made me rethink what kind of profession I wanted to pursue after school. They have multiple jobs in that field and they could help me pay for college."
Overall, the benefits of joining the medical field in the military outweighs joining a normal citizen medical field. Between advancements in medicine, and the exposure and experiences you receive, if you are interested in joining the medical field the military should be one of your top choices.