Michaelina Terranova: Starting 5 Contender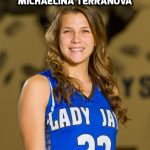 WKBN 27 First News announced the early contenders for the Starting 5 on January 18, 2018. At the end of the basketball season, the starting 5 will be announced. There are many athletes throughout the area that were nominated as early contenders. For Jackson-Milton, senior Michaelina Terranova is one of those early contenders. Could she be the first Jackson-Milton athlete to win this great award?
On February 12, 2018, it was Senior night for the three senior guards on the basketball team. Emily Williams, Haley Lengyel, and Michaelina Terranova were all honored before their game against Crestview. Senior Michaelina Terranova was only shy of one point to be named the all-time girls leading scorer for Jackson-Milton. She entered the game tied with the class of 1985 graduate Tonya Treharne at 1,299 points. She finally scored the point she needed with a jumper on the wing in the second quarter to break the 33 year old record and be named the all-time leading scorer. Michaelina now has 1,305 points in her career. Congratulations to the three seniors for all of their accomplishments, and to the rest of the varsity girls team for getting the win o n Senior night!