Yearbook Class: Making memories one picture at a time!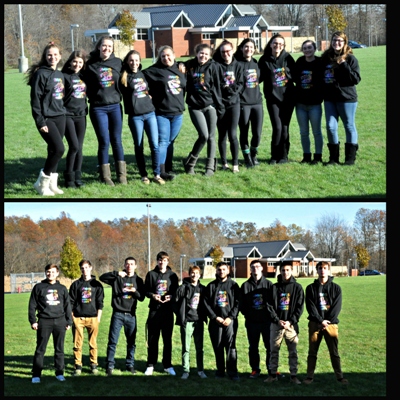 The Jackson-Milton high school yearbook class has been up too many different things so far during the 2017-2018 school year. The yearbook class is run by Mrs. Morelli, who does an amazing job keeping all the students on task and helping prepare them for the tasks to come. Mrs. Morelli also organized getting matching yearbook hoodies for all of the students in the class.
The yearbook class is made up of junior and seniors of the Jackson-Milton High School. The class has a variety of people with different skills and personalities, which makes it easier for everyone to help each other and put the best possible pages together.
At the beginning of year the yearbook class learned about many different types of photos and how to take them. The class has also individually gone to different events and have put their photo taking skills to the test. At this point in the school year the students are putting together all the pictures taken so far and are building the yearbook pages.
The editor, Kendall Tarr is hard at work creating the Senior Slide Show.  This video is shown at graduation and is available for purchase as well.  The cost for the slide show is $10.
The class is pumped creating the yearbook with all of the memories for the 2017-2018 school year. The yearbook class is also looking for many different businesses to buy adds to sponsor the 2017-2018 yearbook. Also if you go online to order your yearbook you can get it customized for the specific student you are ordering it for, you can order it on the Josten's website. The yearbook is also being sold early this year for a limited amount of time for $50.  Don't miss out!