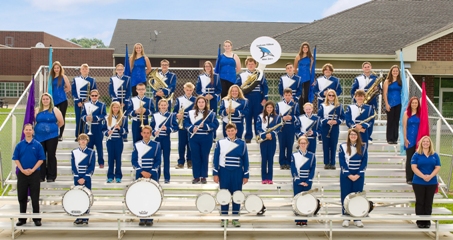 The Jackson-Milton Marching Band and Flagline members have been working hard this year and have been putting in a lot of time to make sure that every performance is the best it can be.
The Band directors, Derek Kittle and Stephanie Presutti, have been working tirelessly this year to make sure the Band and Flagline perform to the best of their ability. The Band and Flagline have performed many times since the beginning of their season. They perform every Friday night at the football games to support our team.
The Band and Flagline have also participated in the Labrae and Mineral Ridge band nights. The Band had also performed for the Jackson-Milton soccer team's senior night on Tuesday October 3. The most recent performance that the Band and Flagline has given was at the homecoming parade and football game. During the homecoming game and parade the band welcomed back Alumni to perform with them. The Band and Flagline are now preparing for the next three weeks of football games that they are to perform.
This year the Flagline has received new uniforms and new flags. Also, recently the band has received new drum stands and drum harnesses. Along with this new equipment, the flagline received special flags for the different service branches for the Veterans Memorial football game.
The Flagline captains, seniors Sarah Kirk and Elizabeth Pifer, have been helping to keep the Flagline team running smoothly and keeping their performances in the best condition. The Band and Flagline also are very happy to have such amazing support from the community.